Svenska medeltida termer för rustningar
Inom rustningsterminologi såväl som kläder från medeltid råder ibland stor förvirring. Engelska och franska termer samsas tillsammans med lokala termer och latin. Dessutom används termer från hela medeltiden och under 500 år ändrades både rustning och termer. Skillnader i rustning som var uppenbara för dem har gått förlorade för oss. Vi har nu föga aning vad som skiljer en aketon från en gambeson. Nya tolkningar har gjorts som vissa använder sig av, vissa inte. Inom Albrechts Bössor försöker vi värna om den svenska medeltida terminologin och letar med ljus och lykta efter samtida termer. Här följer en liten sammanfattning av något vi funnit.
Tygh
Den medeltida benämningen för krigsmateriel var Tygh, något som i viss mån även gäller även idag. De som gjort värnplikt vet att tygförrådet är det som man hämtar sina vapen ifrån. Detta används i Erikskrönikan 'ok redde sik tha wapn ok tyghe' på sidan 30.
Pekkilhuvva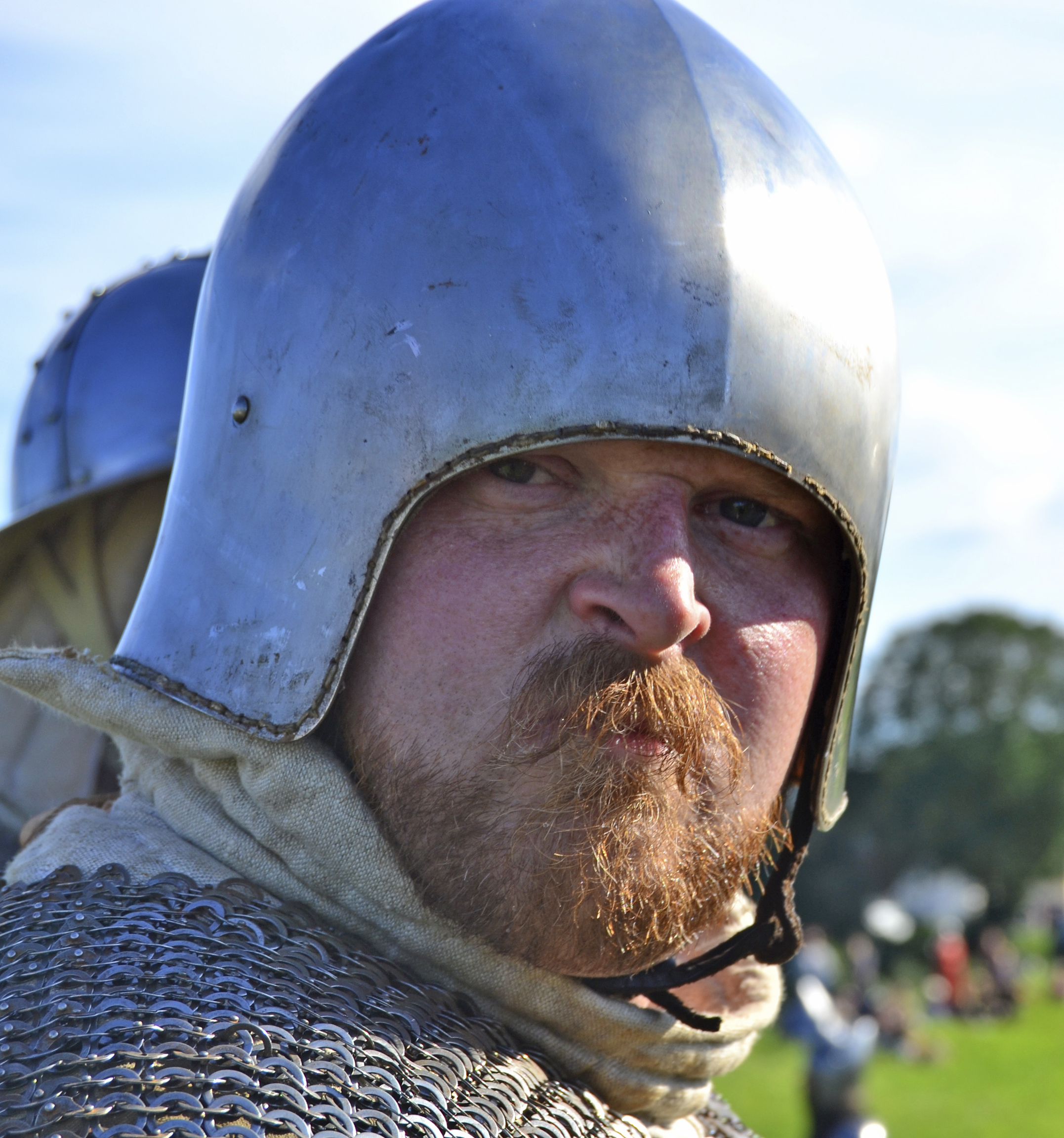 Vanligen kallad bascinet. 1350 säljer en viss Niklas Pekkilhuva jord i Kalmar. Hans vapen visar en bascinet med fjällanventail (Raneke, sidan 593).
Även kung Magnus Eriksson var stolt ägare till " jtem vnam pekkelhwæ. cum slappor."
Slappor
Uttrycket 'Slappor' är till viss del höljt i dunkel, men det är mycket sannolikt rör det sig om någon form av skydd för halsen, så som en ringkrage hängande från en hjälm (en så kallad aventail) eller en lös halskrage av läder, tyg, ringbrynja eller lameller.
Plata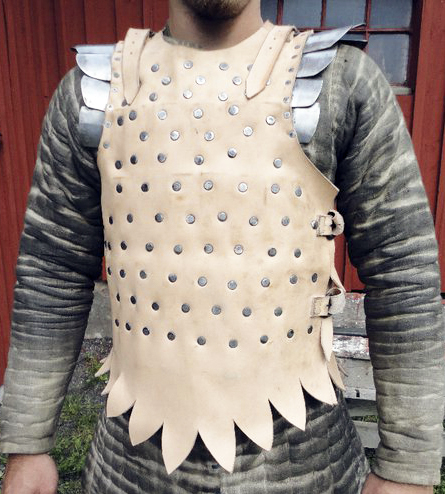 En rustning för bålen bestående av stål- eller järnplattor nitade på insidan av läder eller tyg. Även kallad coat of plates, Visbyharnesk eller överdragsrustning. Erikskrönikan nämner dessa många gånger: "mahrg plata bleff ther ospent" (sidan 57), "hielma plator och panzere" (sidan 30), "min hielm min brynia ok min plata" (sidan 37), "harnisk plator ok anat meer" (sidan 106) för att nämna några exempel. Även Kung magnus hade en, fast han hade glömt den i Norge: "et vna platæ remansit in akersborgh."
Panzar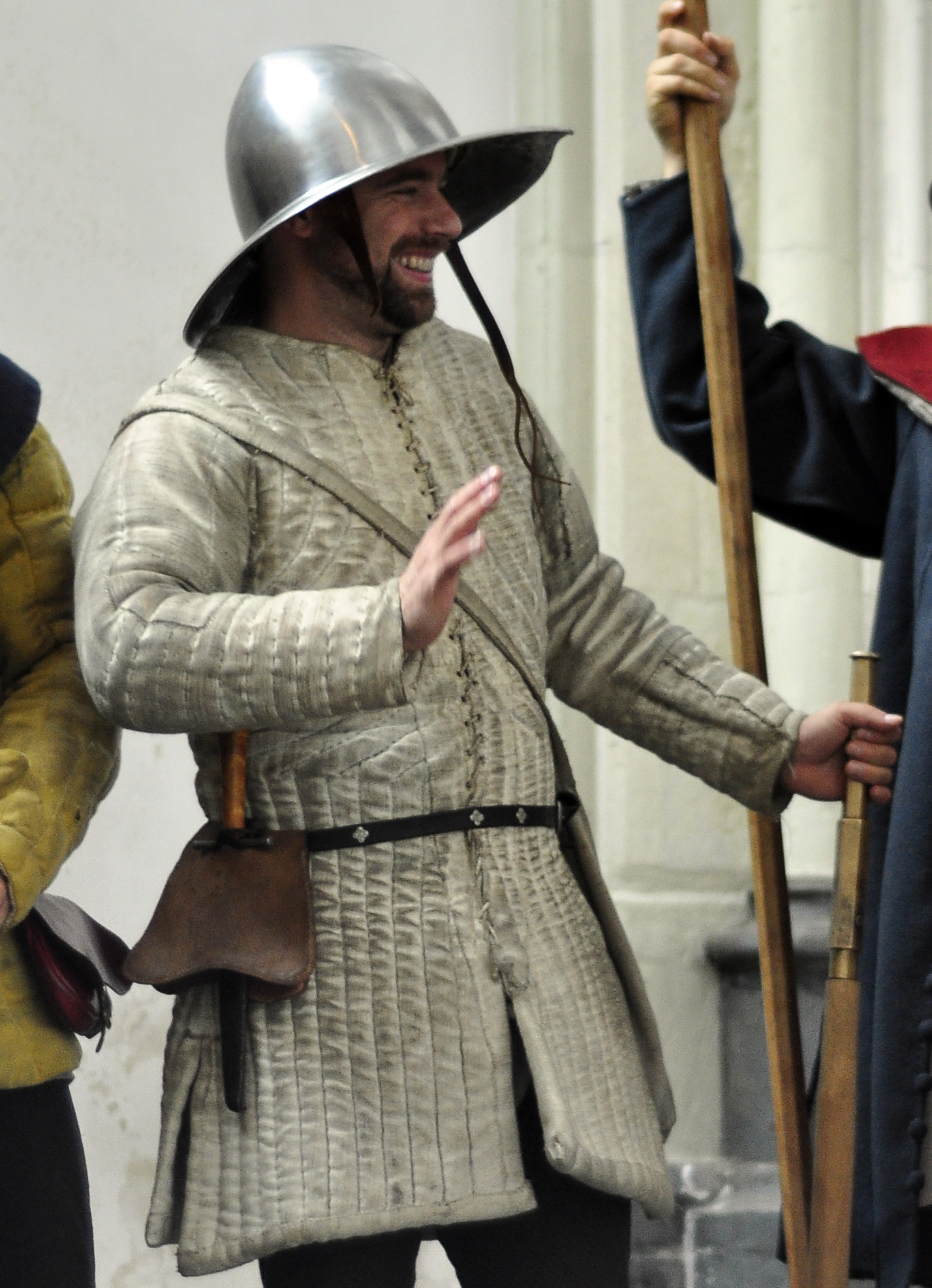 En tygrustning, att ha under annan rustning eller för sig själv. Kallas annars gambeson eller aketon. Erikskrönikan kallar den panzar eller panzare; "hielma plator och panzere" (sidan 30). Att den nämns tillsammans med platan visar att den inte bara är 'ett pansar' utan något speciellt sådant. Under denna tid används bara plata, brynja och tygrustningar vad man vet. Kung Magnus Eriksson hade förutom ovan nämnda rustningstyper "jtem vnum panzer". Ett senare omnämnade av panzare finns i Stockholms tänkebok från 1400-talet.
Kittelhatt/Järnhatt

Det finns många omnämnanden om denna hjälm som i olika former lever kvar än idag. Järnhatten var mycket vanlig och kan enklast beskrivas som en järnkalott med brätte. Järnhatten är den hjälm de medeltida landslagarna säger att folkuppbådet skall ha.
Muzza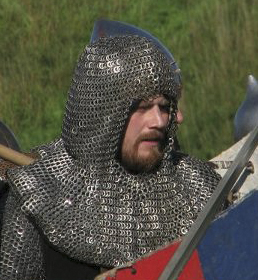 Den vanligaste tolkningen av muzza eller muza är att det rör sig om en ringbrynjehuva, en huva av ringbrynja som vanligtvis bärs under en annan hjälm. Det påminner mycket om hur "mössa" stavas under 1300-tal i olika dokument. Muzzan var en del av den rustning folkuppbådet skulle ha. En riddare vid namn Anders testamenterar 1299 även sin "cum sella muzam cum plata" Senare skall hans "armatorum" (rustning) säljas för att ge pengarna till hans biktfar. Muzam var alltså inte del av rustningen, som troligen var en ringbrynja vid denna tid.
Brynia/Malia/malioharnisk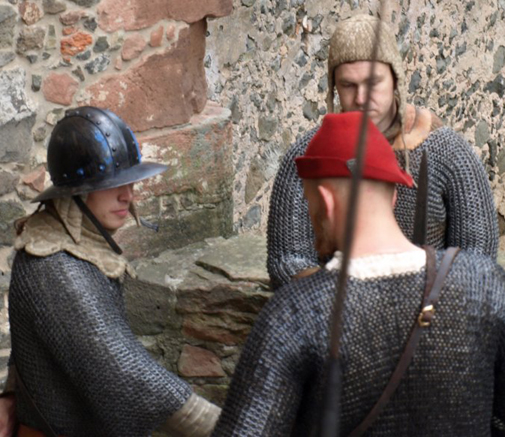 Ringpansar, ringbrynja. Ordet nämns ofta i källorna, till exempel i Erikskrönikan: "min hielm min brynia ok min plata" (sidan 37), i Karl Magnus (sidan 255) "oc före han i twa brynior" eller i Riddar Ivan – Lejonriddaren (sidan 50) "brynior ok hiälma the sunder slitu". Rustningstypen benämns malioharnisk i ett brev från 1408: "för en fating och ena plato och för ett malaharnisk, som han hadhe lanth wårom fadher"
Kung Magnus ägde även "jtem I. par maliotygh " och "I. par maliohuso".
Harnisk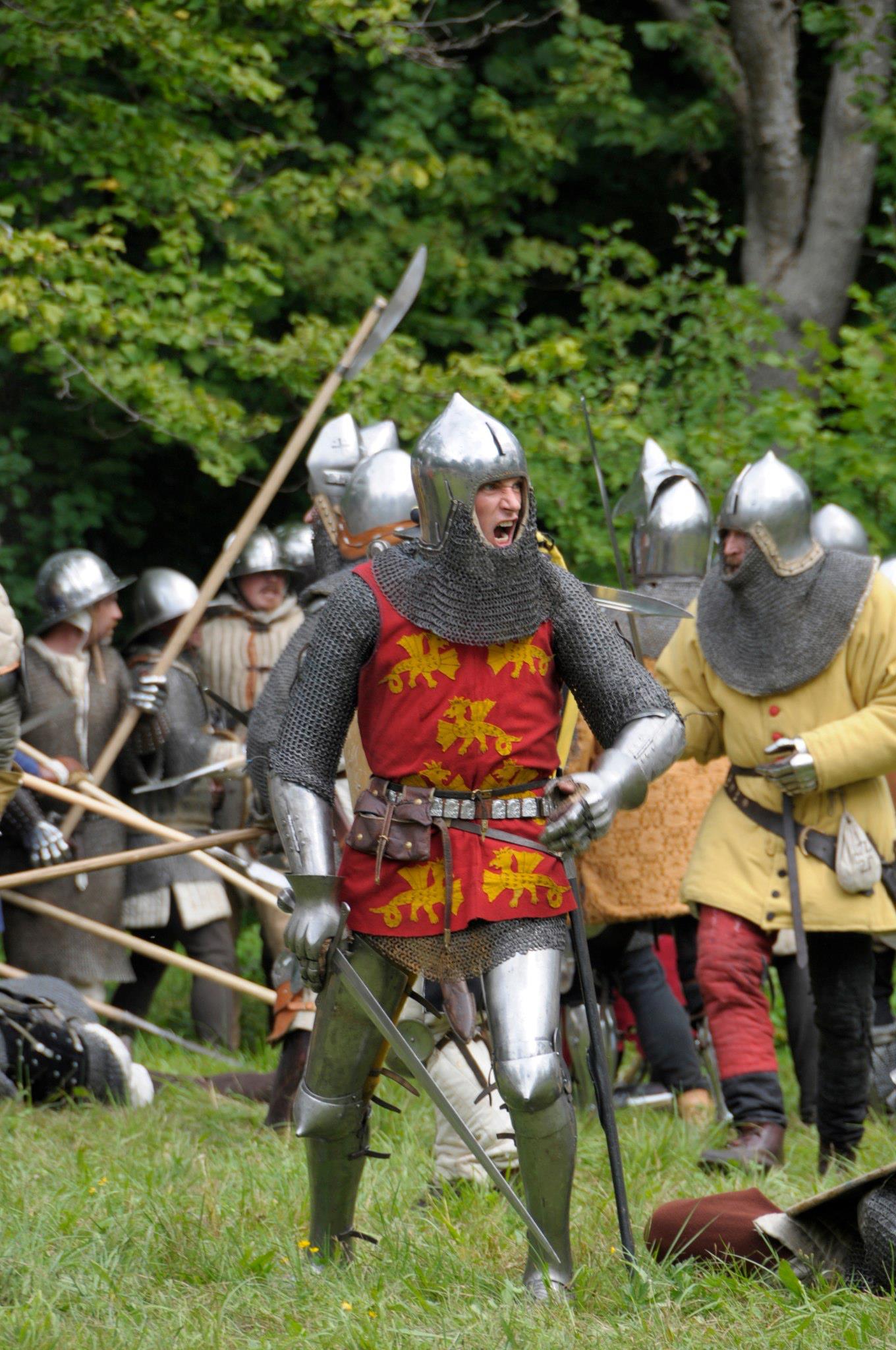 Harnisk är ett något luddigt uttryck. I Erikskrönikan talar man om "harnisk plator ok anat meer" (sidan 106), "man saa ther margt eth harnisk blangt" (sidan 117), något som antyder att ett harnisk var gjort av (putsad metall). Kanske rör det sig om tidiga plåtrustningar för bålen. Ordet kopplas också samman med andra rustningsdelar. I Raven von Barnekows räkenskaper för Nyköpingshus står att Kung Albrecht köper 'benharnesk' för 4 öre. Kanske är det så att harnisk är en samlingsterm för rustningsdelar i plåt? Detta motsäges av termen Malaharnisk (mala/malia/malja, ring) som nämns i ett brev. Kanske är det bara ett allmänt ord för rustning.
Andra termer
Kopartygh – Hästrustning
Tasteer – Stjärn, skydd för hästens huvud
Båda dessa enligt tolkningar är gjorda av Sven-Bertil Jansson. Han tolkar passagen på sidan 106 i Erikskrönikan. Dessutom nämns begreppen i ovan nämnde riddar Anders testamente: "confero dextrarium meum cum cuparthyr taster".
Undersökningsunderlag
Svenskt diplomatarium
Danskt Diplomatarium
Medeltida romaner 1300-tal
Erikskrönikan
Ivan Lejonriddaren
Karl Magnus
Flores ok Blanzeflor
Medeltida dokument 1300-tal
Raven von Barnekows räkenskaper för Nyköpings Fögderi
Om Koningx Styrilsi
Magnus Erikssons Landslag
Övrigt
Raneke/Svenska Medeltidsvapen III
Kung Magnus boupteckning för Bohus slott
Karl Magnus, en roman från sent 1300-tal
Ivan Lejonriddaren
Den här artikeln, skriven av Johan Käll, var tidigare publicerad på vår gamla hemsida i annan version.